Oh, no - NOT what you're thinking! (Though maybe not a bad idea...)

This is about our kitchen floor...our home has been added on to as many as 6 times over the years. The oldest sections are likely about 100 years old. And the floors in those areas have sagged for as long as I've lived here. But in the last 6 months or so we had noticed a very obvious increase in the sag...the time had come to quit insisting it was charming and admit we had a serious problem. Enter son #3 and his friend/co-worker who do commercial remodeling for a living. After much discussion with them we felt we had assembled a good team to tackle the job and we set the date for June 21, knowing it would probably take a couple of weekends.
We began with pulling up the very expensive vinyl "floating" floor covering. Our intent had been to be careful not to damage it, then reuse it later....more on that to come. Then we removed the flooring underlayment, a layer of old vinyl tiles, and the plywood that made up the horizontal surface....Wow - what a nightmare we uncovered!
We had anticipated that all the joists and supports would have to be torn out and replaced - no surprises there. But the icky, gooey, sopping wet earth that had been cover
ed up to this point was a sickening surprise. W
e expected damp - not this mucky, muddy mess! Some 40 bags of concrete were part of the answer, along with the shop-vac for sucking up the water, and electric fans for drying. And a plan for adding ventilation to prevent this kind of mess in the future.
That first weekend was a doozy. The concrete supports were made and most of the joists and supports were built, but that took hours and hours. Cleaning up all the concrete dust and mud from the walls, cabinets, sink and walkway to our front door, ate up most of Monday.
During the week we poured some additional concrete, and kept
fans
running to get the earth below as dry as possible. Then today the heavens opened up and poured buckets! After a few hours, the water started seeping through again - arghh! So a new project for diverting water away from the house has been added to our to-do list for the summer.
However the guys were able to go ahead and finish adding supports and laying the tongue-in-groove panels on top. That is one sturdy floor! You can walk, run, bounce, jump - whatever you do, it doesn't jiggle one bit!
As for the vinyl floor - we didn't tear it, but the underlayment had stuck to the edges, where it had been glued. After some diligent work to remove it, we realized it was a lost cause and are now looking into new floor coverings. I'm leaning toward a wood laminate in a rich tone...maybe a dark oak?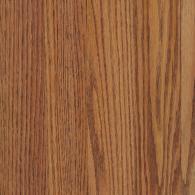 Or how about this mahogany? Maybe walnut?...I'll let you know...it will be NEXT weekend be
fore we start that part of the
adventure.